June is Pride month and also Rainbow Book Month. Rainbow Book Month is a celebration of authors and writings that represent the lives and experiences of the LGBTQIA+ community and has been celebrated by the American Library Association (ALA) since 2015. Libraries include LGBTQIA+ resources in collections because libraries represent the communities they serve. Here are some LGBTQIA+ Fiction selections from our collection that you can come and check out!
A quick & easy guide to queer & trans identities by Mady M. Giulani, author, and J.R. Zuckerberg, illustrator
This graphic novel covers a multitude of topics such as sexuality, gender identity and navigating relationships. The story is told through comics, interviews, and worksheets. A great start for those in the beginning of their journey and helpful for those in the middle of their journeys.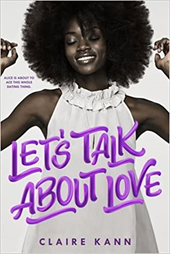 Let's Talk About Love by Claire Kann
This book follows Alice, an asexual teen who has given up on finding love. But then she meets Takumi and she can't stop thinking about him. She has to decide whether to risk their friendship for a love that might not be shared.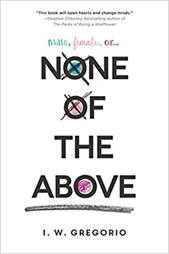 None of the Above by I.W. Gregorio
When Kristin is voted homecoming queen, it seems like she is living her perfect life. She has a full scholarship to college and a boyfriend she is in love with. A visit to the doctor shatters her world: she is intersex. Kristin is having a hard time dealing with this news when someone leaks her secret to the school. Kristin must come to terms with her new self while dealing with the chaos around her.
Carry On by Rainbow Rowell
Simon is the worst Chosen One ever. Or so his roommate Baz says, and he's probably right. Simon has a hard time getting his wand to work; his girlfriend broke up with him; and there is a monster running around wearing his face. This story is a spinoff of Rainbow Rowell's other novel, Fangirl, and is loosely based on the Harry Potter series.
All Out: The No-Longer-Secret Stories of Queer Teens throughout the Ages by Saundra Mitchell
This novel is a collection of stories by seventeen young adult authors across the LGBTQIA+ spectrum. These historical fiction stories include a retelling of Little Red Riding Hood in war-torn Mexico, two girls falling in love while mourning the death of their favorite rocker, Kurt Cobain, a forbidden love in a Spanish convent in the 1500's, and more. The companion anthology, Out Now: Queer We Go Again!, is also available.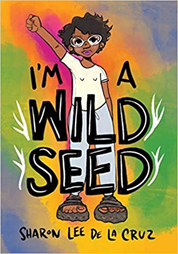 I'm a Wild Seed by Sharon Lee De La Cruz
This graphic novel is the author's colorful memoir. She reflects on how oppression was the cause for her late coming out and she invites us to discover the people and things that helped inform and shape her identity.
Music from another World by Robin Talley
Tammy feels like she can't be herself anywhere because she is a closeted lesbian. Not at her Christian school, conservative church, and not at her house where her aunt organizes antigay campaigns. She only has one outlet, writing letters in her diary to gay civil rights activist Harvey Milk. When she is matched with a like-minded pen pal, all that changes.
Library Link A Quick & Easy Guide to Queer & Trans Identities
Library Link Let's Talk About Love
Library Link None of the Above
Library Link Carry On
Library Link All out
Library Link Out Now
Library Link I'm a Wild Seed
Library Link Music From Another World