Did you know that July is National Culinary Month? It is also National Peach Month, National Blueberry Month, and National Ice Cream Month. What I'm saying is that if you love food, this is your month! We have a lot of great cookbooks down in the Teen Room, but also fiction books with a food theme. Here are a couple, but come visit us to see more!
The Heart-Break Bakery by A.R. Capetta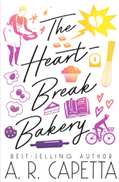 Syd loves to bake and works at the Proud Muffin bakery.  Syd uses baking for any big issue or problem in their life. So, when Syd is dumped, they obviously whip up a batch of brownies. There is only one problem: everyone who eats Syd's break-up brownies ends up breaking up. Can their magical baking talents fix this problem, or just cause more?
Radha & Jai's Recipe for Romance by Nisha Sharma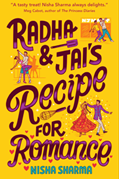 Radha is on her way to becoming one of the best kathak dancers and Jai is captain of a Bollywood dance team. Both of their future dreams are shattered due to family issues. Radha tries to reinvent herself at the Academy of Arts and Jai realizes she might be just what he needs for a knockout last year.
Bloom by Kevin Panetta
Ari wants nothing more than to move to the big city with his band, but first he has to talk his dad into letting him quit his job at the family bakery. He likes the job, but he doesn't want to be there forever wasting away. Ari starts to interview candidates to take over for him when he meets Hector, and all of his plans change. This graphic novel has a heartwarming story and beautiful images to go with.
Donuts and Other Proclamations of Love by Jared Reck
Oscar and Lou couldn't be any different. Oscar hates school and wants nothing to do with college. Lou has valedictorian in her sights and lofty college goals. A relationship neither of them anticipated grows when Lou and Oscar must work together on a service project reducing food waste in their high school.
Library Links
Radha & Jai's Recipe for Romance