Over the last few weeks we have shown you six of the ten Soaring Eagle nominees for 2019-2020. Hopefully you've read about at least one that sounds interesting to you but if not, we've got four more to show you. This week's theme: series! The beautiful thing about a series is you get to see your favorite characters over the course of several books instead of just one. This makes getting attached to characters a little easier. Without further ado, here are our last four titles.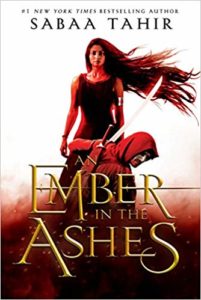 An Ember in the Ashes
By Sabaa Tahir
"As long as there is life, there is hope."
Laia tries to live by these words, repeated by her grandmother, Nan, often as she was growing up.  But in the Martial Empire, hope is difficult to come by … because life, especially Laia's life, is seen as cheap and exhaustible.
When Laia's grandparents are brutally murdered and her brother is arrested for treason, Laia is forced to make a deal with an underground group that is working against the Empire; she must spy on the Empire from within the walls of its martial training academy, putting her own life and her own freedom at stake.
There, Laia meets Elias, a young soldier who is training for the Empire's most elite force, but who lacks the drive – or the ruthlessness – that his fellow soldiers possess.  In a battle to become the emperor's "Blood Strike," Elias must choose between what is expected of him and what his soul tells him to do … and his choice forces him to flee the Empire, with only Laia as his ally.
An Ember in the Ashes combines adventure, magic, intrigue and unspeakable cruelty in an epic tale of friendship and, ultimately, hope. This is the first title in a trilogy; the other titles are A Torch Against the Night and A Reaper at the Gates, both of which are available for checkout.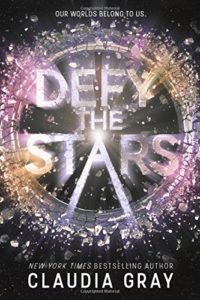 Defy the Stars
By Claudia Gray
What would the world look like if robots took over all jobs? Not just the jobs that humans don't want to do, but all jobs.
An interstellar war has broken out between the planets, Genesis and Earth. Earth has pushed the laws of mankind, creating machines to do everything and essentially stripping humans of their humanity. On the flip side, Genesis has seen the evils of what mankind can do and has not advanced their technology in hundreds of years. With the Earth's advanced tech, Genesis must do whatever they can to gain more time. Out of options, Genesis starts preparing to delay the war by launching the Masada Run: a mission that will kill almost everyone who participates. Noemi is willing to die for her planet and in three weeks she will be joining the Masada Run. She's come to terms with her imminent demise, until by accident, she stumbles upon Abel. Abel is a mech, a robot, who was abandoned in space for years. The unlikely duo team up to delay the war, if not stop it entirely. As Noemi and Abel travel to the other inhabitable planets, they start to question how much of what their home planets told them is true and how much is a lie.
Defy the Stars is the first book in the trilogy; the other titles are Defy the Fates and Defy the Worlds, both are available for checkout.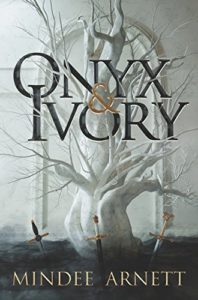 Onyx & Ivory
By Mindee Arnett
Kate and Prince Corwin were once childhood friends, until the day Kate's father tried to assassinate Corwin's father. Since then Kate has been living in exile, working as a courier for the Relay, a group of riders tasked with delivering various items and information to other villages. Kate is always careful to make it back home before night falls and the nightdrakes come out to feast. On one errand Kate runs into a massacre: problem one, the only survivor is Corwin; problem two, the drakes attacked during the day. With the threat of the night creatures being able to attack during the day, Kate and Corwin must put their past aside before Rime falls.
Their friendship is also strained because of Kate's secret: she is a wilder, a person who possesses forbidden magic. Magic she can use to help save Rime, if she doesn't get caught
Onyx & Ivory is the first book of the Rime Chronicles. The second and final book, Shadow & Flame, is available for checkout.
One of Us is Lying
By Karen M. McManus
On Monday, four teens meet with nothing in common, minus the fact that they all ended up in detention and watched Simon die. Now Yale-bound Bronwyn, homecoming princess Addy, all-American boy Cooper, and bad boy Nate are all being accused of conspiring against, and murdering, Simon.
The motive?
Simon runs "About That", on online blog that exposes secrets you don't want exposed, and on Tuesday he was going to post the next set of secrets, secrets about Bronwyn, Addy, Cooper and Nate. Secrets they all wish would never see the light of day. Simon wasn't the only one who knew their secrets; the murderer knows them as well and won't stop until the lives of the four are ruined forever.
Now the unlikely four must find the killer before one or all of them go to jail for a murder they didn't commit… or did they?
One of Us is Lying is the first book in the Bayview High series. The second book, One of Us is Next just came out and is available for checkout.
There you have it: all ten Soaring Eagle Nominees. A reminder that voting for the Soaring Eagle Book Award is open now through March 15. You can vote at your public library or your school library. We hope that you found one book you are interested in reading. However, if you did not, stop by the library and we'll hook you up with one you'll love.