It's just about the time of year where the winners of the Soaring Eagle Book Award are announced! For those of you who might be unfamiliar with the Soaring Eagle Book Award program, let me give you a bit of a run down. Every year, teens in Wyoming have the chance to nominate their favorite books to appear on the list. A committee of teachers and librarians narrow those titles down to a final list of ten. Then the nominees are announced. Over the next few months, here at Campbell County Public Library, the staff members in the Teen Room read through all the nominated titles and create book talks for them. At the beginning of each school year we then present those book talks to the 7th and 8th graders at Twin Spruce and Sage Valley junior high schools. From February 15 – March 15 teens throughout the state who have read three or more of the titles have the chance to vote for their favorite and nominate new books for the next year. The titles cover many different topics including horror, science fiction, romance, non-fiction, graphic novels and so many others. Over the next few weeks we'll present the book talks for the 2019-2020 nominees! This week we'll go over the three stand-alone titles on the list. A stand-alone is a book that is not part of a series.
The Hate U Give
By Angie Thomas
For sixteen-year-old Starr, life is difficult to navigate. Starr struggles with being herself when she feels like she has to act like somebody else, depending on where she is and who she's with. Living in a poor, gang-ridden neighborhood, she's seen as "being better than everybody else" because she attends a fancy, suburban prep-school. Then at school, where she's the only African American student, she has to try to act "formal" enough, so she doesn't get stereotyped as a hood rat. It is mentally exhausting.
This balance between her two worlds becomes even heavier after she witnesses the fatal shooting of her childhood best friend, Khalil, at the hands of a police officer. Khalil was unarmed, making the incident national news and putting Starr as the key eyewitness to the trial.
In the heat of the Black Lives Matter movement, Starr has to decide how to best get justice for Khalil when she is the only person alive who knows the true story. But what Starr does—or does not—say could enrage her community, or even endanger her and her family.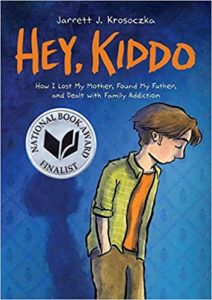 Hey, Kiddo
By Jarrett J. Krosoczka
Jarrett J. Krosoczka has written and illustrated over a dozen different books. With success like this you might be thinking he's had an easy life, but you couldn't be more wrong. As a child he was adopted by his grandparents due to his mom constantly being in and out of rehab and jail due to her drug addiction. His father wasn't in the picture either; Jarrett never even knew his father's name until he was a teenager and stumbled upon his birth certificate. His only escape from the darkness that was his life was through art and drawing, so he threw himself into classes for graphic design, drawing and basically any other forms of art. His passion for graphic novels helped push him to publish his first book, Good Night, Monkey Boy in 2001. Jarrett is a great example that it doesn't matter where you come from; all that matters is your drive. This title is a graphic novel.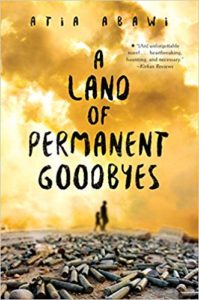 A Land of Permanent Goodbyes
By Atia Abawi
Tareq, a teenager living in a small city in Syria, is enjoying a typical evening at home with his family: his mom is fixing dinner; his dad is still at work at the family store; his younger siblings are playing; and his grandmother is helping with his twin baby brothers. Just a typical family evening that might happen in any country, right?
Typical until an air strike bombs Tareq's city, destroying his home, his family, his past. In an instant, Tareq's world is gone, replaced by a new reality – one that includes becoming a refugee to escape the war that is destroying his country.  In his journey to find a new life, Tareq will face starvation, unemployment, human traffickers, and the dangers of crossing the Mediterranean Sea to what he hopes will be safety and a new life for himself and his baby sister.  He will also find moments of breathtaking courage and human kindness in its purest form.
Written by a news journalist and based on the very real events of the Syrian war and refugee crisis, A Land of Permanent Goodbyes shows us that Tareq's story could be any teenager's story, if it is your destiny to live in a country devastated by war.
Did any of these titles sound interesting to you? Remember all these can be found at your school and public library; just stop in and ask! If none of these titles interest you, don't worry. We still have seven more to show you!