Happy spooky season, y'all! In case you haven't noticed, we love this time of year in the Teen Room!
Scary Stories: Teen Edition
Because we're all fond of the strange and unusual, we're planning to host Scary Stories: Teen Edition on Thursday, October 17, 3pm! Join us for a spooky movie, popcorn, scary stories, and a spooky craft! Any teen is welcome and we're planning on having a spook-tacular time! So, enter if you dare; you're in for a scare!
  For those of you looking for some spooky reads, here are a couple new books that add a modern twist to classic horror– and just in time for Halloween!
Mary's Monster: Love, Madness, and How Mary Shelley Created Frankenstein
by Lita Judge
For those of you who enjoy a new spin on an old classic, you may love Mary's Monster. Mary's Monster pairs free verse poetry with page upon page of haunting black-and-white watercolored illustrations. The story follows the life of Mary Shelley and her family as she grows up without her mother, in a gloomy house with her sisters, father, and cruel step-mom. Desperate to escape the darkness around her family, Mary finds love with a man who loves writing and the macabre. Moving with uncertainty from one tragedy to the next, we get to experience Mary Shelley's life and all the darkness she endured to create the story of Frankenstein. Follow Mary Shelley as you've never seen her before in this unique biography of the pregnant teenage runaway who became one of the greatest horror authors of all time.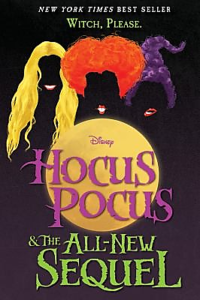 Hocus Pocus & The All-New Sequel
Be spellbound by a fresh retelling of the original "Hocus Pocus" story, followed by the all-new sequel that continues the story with the next generation of Salem teens!
It's always hard being the new kid in school, but when Max Dennison moves to Salem, Massachusetts, new problems seem appear in a puff of smoke. After he accidentally sets free the Sanderson sisters, a crazy coven of creepy witches, it's up to Max, his sister, and their new friends to stop the Sanderson sisters from wreaking havoc on Salem.
Twenty-five years have passed since Max Dennison's run-in with the Sanderson sisters. His seventeen-year-old daughter, Poppy, is set to enjoy a Halloween celebration like you can only find in Salem, but when events go awry, she finds herself facing the Sanderson sisters in all their tricky goodness.
His Hideous Heart
This one's for you, Poe fans! His Hideous Heart follows thirteen of Edgar Allan Poe's most popular tales retold by some hot YA authors. Combining modern Poe retellings along with the originals, this book is a perfectly unique Spooktober read. Whether you're new to the world of Poe or are already familiar, take a chance on His Hideous Heart and revel in the terrors and thrills of his classic tales in a new way. Experience Poe's stories like  never before in this delightful modern book.