Hello, summer readers! June is almost over, but summer reading is still going strong! If you're having a hard time choosing what book or series you want to start next, here are 5 great summer reads that the YA staff recommends for teens!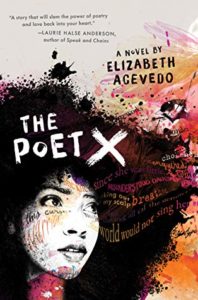 Poet X
For those who enjoy books in verse, The Poet X is a beautifully written book about Xiomara, or X, who loves writing poetry to express herself. Her highly religious Dominican family has double standards when it comes to her brother, the golden child of the family who seems to do no wrong. X is by no means a wild card, although her family expects her to be a clean, grateful, God-loving girl. Struggling to feel accepted for herself at home, X puts her heart and soul into her poetry. This is a great book for all teens who struggle with feeling unaccepted among their family.
Seven Deadly Sins (Manga)
For all you manga lovers, the Seven Deadly Sins series is the most exciting adventure manga for the summer! Follow Meliodas and Princess Elizabeth as they set out to reunite all the outlawed Seven Deadly Sins to save the kingdom from the corrupt holy knights!
We Are Okay
After having a rough year, Marin is desperate for change and to find a place to belong again. Marin spends her summer almost alone in her college dorm since most students are home for summer break. Marin struggles with feelings of isolation and finding meaning while she is at her lowest. Luckily, she has the support of her best friend to get her through the days, although self-doubt and struggles with mental health make everyday tasks much harder. This is a great read for those of you who tend to struggle in the summers, feeling isolated and generally down when you have too much time on your hands and miss your friends.
Space Boy (Graphic Novels)
Space Boy is the story of Amy, a girl with synesthesia. For some this means they see music; for others, they smell colors. For Amy, everyone she meets has a flavor, whether it's the flavor of hot chocolate when she hugs her father, or pineapple and jalapeno when she chats with her best friend. After growing up on a mining colony in deep space, she is forced to move with her family back to Earth. Following 30 years of cryogenic stasis, she wakes up to find herself on a new world, with new technology all around her, and her only friends are now older and half a light year away. Amy struggles with adapting to her new life until she befriends Oliver, a boy with no taste.
Space Boy is a great story about dealing with change that hooks the reader at every turn, and the art style has a very cute simplicity to it while still developing a compelling and charming world.
Manga Classics (Manga)
Here's a treat for manga and literature enthusiasts! The Manga Classics are a great new way to read some of our classic novels. Whether you struggle to comprehend wordier classic novels, or simply wish to experience one of these stories in a new style, all of us in YA highly recommend checking out the Manga Classics! Written in the classic manga style (read right to left), this collection offers a new way to enjoy some great classic stories.
We currently have the following books in the Manga Classics collection:
Great Expectations
The Jungle Book
Les Misérables
Macbeth
A Midsummer Night's Dream
Romeo and Juliet
The Scarlet Letter
We hope you enjoyed this month's book review (clap clap) and happy reading!