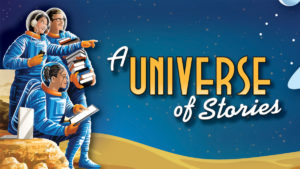 This year, our summer reading program is theme is "A Universe of Stories" and we have a ton of fun activities in the Teen Room here at Campbell County Public Library! We're kicking off the summer with a party on May 23, 3-5 pm! Join us down in the teen room for an open mic, and snacks, and you can even visit the Wyoming Stargazers' Digital Planetarium up in the atrium! Make sure you                                                                 grab a ticket and reading log!
On June 19, 2-5:30, we will be hosting a Hogwarts Escape Room! Bring your friends to find the clues to escape Professor Vector's office. But be warned; you only have 30 minutes!
Throughout the summer weekends we will be having a Star Wars Marathon starting on June 21, 1-4 pm. Catch up on all the movies before Star Wars IX: The Rise of Skywalker opens in theaters this December!
We will be having a Space Escape Room on July 10, 2-4 pm. Your group is trapped in a space shuttle that will self-destruct if you do not solve the clues! See you there!
Finally, we will be having our End of Summer Party on July 24, 1-4 pm. There will be outdoor water games, snacks, and drawing for our six prize baskets. You do not have to be in attendance to win, but please come join us!
Make sure to stop by this summer, grab a reading log, and earn some awesome prizes! We'll be having clubs and activities all summer!