You may have heard the saying 'those who forget history are doomed to repeat it' or some variation of it. That being said, not everyone likes to read history text books; a great way to learn historic facts is reading historical fiction and lucky for us there were two great historical fiction novels on this year's Soaring Eagle list. Let's take a look at those now!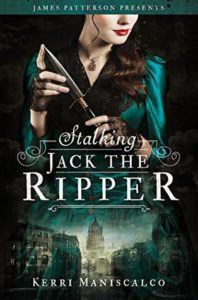 Stalking Jack the Ripper
By Kerri Maniscalso
London, 1888:  In the heat and humidity of late August, a serial killer terrorizes the low-class East End district, Whitechapel, murdering women and brutally dismembering their bodies. He becomes known as "Jack the Ripper" for the gory, bloody murder scenes he leaves behind.
Audrey Wadsworth, raised in an upright Victorian-era family, feels compelled to solve the murders, to figure out the identity of "Jack the Ripper" before he strikes again. Even though the women he kills are viewed as "throwaway" women by most of society, Audrey knows that no person deserves to die in such horrific murders.
As she becomes dangerously involved with the murder investigation, Audrey slowly realizes that "Jack the Ripper" may be closer to her than she thinks.  Could he be her eccentric uncle, who has his own personal collection of human organs and is always seeking more? Could it be the handsome, yet aggravating, Thomas – a fellow student in her uncle's secret forensic science classes?
Or could it be someone even closer?  Perhaps, even, someone in Audrey's own home?
Projekt 1065
By Alan Gratz
"You do what you have to do, even if it means doing something wrong."
Michael O 'Shaunessey is a thirteen year old boy growing up in Nazi Germany. Like any teenager he loathes the grown-up dinner parties, making small talk, listening to adults discuss Hitler and "the War".
Unlike most teens, Michael has a huge secret. He goes to school daily as part of the Hitler Youth Corp. He is a good soldier by day: doing everything required of him to move up in the corp and prove his loyalty to Hitler and Germany.  At home when he leaves school and the public eye, he keeps his family's secret: they work for the Allies, feeding information through the Irish embassy they work for to help the Allied Forces.  Although Michael is just a kid and not actually a spy, he finds himself challenged daily not to challenge the evil he sees happening all around. Children were encouraged to turn their family members in for violating any small rule; boys beat each other to just to prove their loyalty to the Fuhrer.
Michael befriends a new boy at school and protects him from the bullies. As he gets to know his new young friend he discovers the secret of Projekt 1065. Michael is determined to somehow get a copy of the plan and pass it on to his parents to send to the Allies. The story keeps you questioning with Michael , what would I do if I had to choose between doing what is necessary and doing something wrong.
Now, if you've been keeping up you've noticed we keep mentioning ten titles but we have only done nine; that's because some titles don't really fit well with any of the other books. This year that book is I Will Always Write Back, this is a nonficiton title. Don't let the fact that it's nonfiction scare you away, as this book will demand your attention.
I Will Always Write Back
By Caitlin Alifirenka & Martin Ganda with Liz Welch
Two people, two very different lives. Caitlin lives in Virginia, while Martin lives halfway around the world in Zimbabwe. Two individuals who by all means should have never met each other quickly become close lifelong friends. Everyone in Caitlin's class wrote a letter to a penpal in a distant country. Martin is one of the lucky few in his class to receive a letter, which happens to be from Caitlin. As they correspond with each other, they learn how vastly different their worlds truly are. As Martin struggles to find ways to pay for school and feed his family, Caitlin struggles with backstabbing friends and dating. Even with the differences they have, they find peace and understanding through one another. From their first letter all the way to their first meeting, we see how a letter can spark a friendship that lasts decades, a friendship that changes both individuals for the better.
There you are –  all ten Soaring Eagle Nominees for 2018-2019. Voting is going on now through Mach 15, for our teens, 7th-12th grade, at your public library or at your school library. If you have read three or more of these books, you can vote for your favorite, as well as nominate another book to be on the list next year! If you haven't read three,stop by your libraries to check some out, or visit our Libby app. Happy readings!!!!