Now through March 15th teens who have read 3 of the 2016-2017 Soaring Eagle nominees can vote on which book they liked best, as well as nominate one for next year!
The best part about the Soaring Eagle books is the fact that these are teen-recommended titles. We've been astounded at the complexity and variety of this year's nominees. This year, teens nominated genres such A magical realism (Bone Gap), non-fiction (Samurai Rising), and historical fiction (Salt to the Sea).
We're hoping with the following books we can spark your interest but, if we haven't yet, hold on!  We've got four more books on the Soaring Eagle list to discuss!
Bone Gap
Laura Ruby
Do we really see one another – deep inside? Have you ever felt that the way other people see you becomes the way you see yourself?  That's how Finn feels: ever since his mother left him, and his older brother, Sean, behind in order to marry a man who didn't want them, the people of Bone Gap see Finn and Sean as unlucky and pitiable, and they see themselves that way, too.
That is, until Roza comes to live with them. No one knows where Roza came from, or what her story is.  They just know that she brings joy and liveliness to the town of Bone Gap.
But when Roza disappears, the people of Bone Gap just accept it. After all, Bone Gap is a place of gaps — gaps people disappear into, gaps that trip you up. Sean just thinks Roza's disappearance is more of his bad luck.  Finn, however, knows there's a reason Roza disappeared — and it has to do with the scarecrow man who stole her.
The problem is, nobody in Bone Gap believes Finn, because nobody really sees him.   Nobody, that is, except his girlfriend, Petey – but when she comes to understand Finn's deepest secret, even Petey loses her faith in him.
This book is an example of magical realism, a genre which blends a realistic story with elements of magic and fantasy.
Salt to the Sea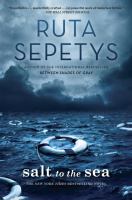 By Ruta Sepetys
As thousands of people fled Germany during the end of World War II, Florian the thief, the pregnant Emilia, Joanna the nurse, Opi the shoe poet and Klaus, the wondering boy, were among them. Together, they have witnessed the horrors of war, death and starvation in freezing temperatures. They believe they have found safety when they are all able to get aboard Wilhelm Gustloff, a ship that will take them out of Germany and the invading forces of the Russians.
Twenty-two minus eleven—that's how many safety boats are on the ship that is thousands of people over capacity. Alfred knows. He's the German soldier who desperately seeks to earn the recognition of the Nazi's.
They do not know that they are aboard a ship that will go down in history as the deadly shipwreck, dwarfing the casualties of the Titanic.
Faced with the violence and inhumanity of fighting for their survival, Florian, the thief, will have to decide between his secrets, secrets that could get him hunted and killed by the Germans, and the lives of his newfound friends. Who will make it off the ship alive and who will become nothing more than Salt to the Sea? (*This is a historical fiction: while the story is fabricated, the events are real.)
Samurai Rising: The Epic Life of Minamoto Yoshitsune
By Pamela S. Turner
Although he was destined to be one of the greatest samurai in history, Yoshitsune barely made it into adulthood. When he was a baby, his father kidnapped the emperor and tried to force Japanese royalty to acknowledge him as nobility, but samurai were not nobility during this time—they were the people nobility paid to do the dirty work.
Yoshitsune's father and brothers were killed for his father's failed coup, but his mother made a desperate plea—let three-year-old Yoshitsune live his life quietly and peacefully in a Buddhist monastery.
However, the call to be a samurai—to train in archery and hand-to-hand combat ran deep in Yoshitsune's blood and he escaped the monastery at thirteen, disguised himself as a servant and sought warrior training so that he can exact revenge on the men who were responsible for the death of his family.
There are many odds against Yoshitsune—he has begun samurai training far later in life than the other boys, there are many enemies that could kill him on sight if they know who he is and, in Japanese politics, there's no telling who will remain your friend and who will turn on you. Yoshitsune will face death in battle many times over and danger at the hands of his friends if he is to survive in this non-fiction account.